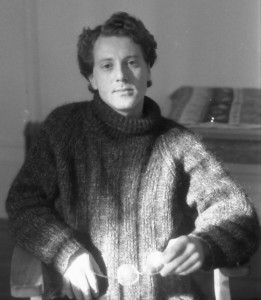 There have been a number of coincidences in my life which have inspired in me a love of painting, and which offered me unexpected opportunities to study this great tradition.In kindergarten instead of drawing the triangle to represent the trinity, I remember drawing an old man, a young man and a dove which impressed the nuns. I also remember being particularly moved by the effect of light playing on the wall, and the emerging colours of my school tie at first light.I worked in my father's Barber's shop which gave me access to free models and the opportunity to practice drawing portraits of the customers while they sat.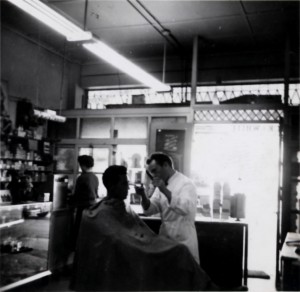 Another defining influence on my early life was the well known painter Don Gallagher, one of my teachers in primary school. He gave me a copy of a popular book on "How to Paint Portraits" which enthralled me. I loved the atmosphere in his studio where he painted many of the students.
At the age of 12 I contracted hepatitis and was confined to bed for four months. During this period I passed most of my time drawing, mainly copying subjects which contained designs and patterns, such as poker hands, stamps, and military insignia which I gleaned from the Encyclopedia Britannica.
In High School I was a student in the First Art Class which I loved throughout my time there. Fortunately my art teacher Brian Teal was a great inspiration who taught us a thorough history of art and emphasized the importance of technique.
At the age of 13 my interest in perspective led to a disaster in the science room. As I watched a boy propel a biro through the pen groove on the long desk, curious to see the distortions of perspective, I watched to see the biro approach. Unfortunately the pen pierced my eye and I was almost blinded. I spent a week in hospital with both my eyes covered with only a transistor radio for entertainment.
Consequently I developed a love of music and started to teach myself the piano which I still play today. Many of my paintings contain musical subjects.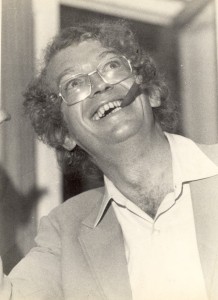 On finishing school I yearned to study art, but was forbidden by my father, who threatened me with "death" if I didn't go to university so I studied Architecture for the next five years. Ironically it was at Uni that I first met the artist Brian Dunlop my graphics tutor, who ultimately became my mentor.
While at Uni I continued to draw often and attended life drawing classes at both Julian Ashton's and at the National Art School. At Ashton's I met David Wilson and later studied privately with him in his Annandale studio. He offered to make me his apprentice but this never eventuated because he moved to Bathurst.
I must have been very lazy and self satisfied at that stage convinced that I was so competent I had to do was to start painting". I considered the fine examples of drawing and painting on the walls very dull. After a year of study however I begrudgingly began anatomy studies, and soon after developed an enduring respect for those works of art, most of which still hang there today.
At around this time I visited an exhibition of Brian Dunlop's work at the Old Macquarie Gallery and thought the paintings outstanding. Coincidentally Brian was tutoring at one of my life drawing classes and invited me to his studio. After hearing of my despair about the current state of the art world and art tuition, he invited me to work with him in his studio. He became my most important artistic influence.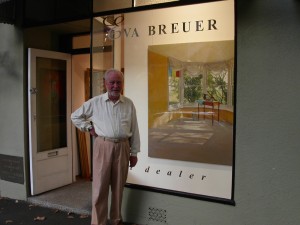 In 1979 I embarked on an overseas study tour which was to last longer than I had anticipated. While traveling through Europe on a three month Euro Pass, in the holiday month of August, I decided to stay on in Vienna. I found a cheap apartment right next door to Schubert's birth place. During this time I mainly visited the KunstHistoricher Gallery spending many hours drawing from the paintings.
One fortunate day I was approached by a stranger, who, impressed by my drawing, invited me to join her art class. She turned out to be Maria Lassning, well known artist and tutor at the prestigious Hochschule fur Angewandte Kunst. There I practiced life drawing day and night and met a milieu of interesting people. One of my fellow students taught me an egg emulsion technique (tempera) which I continued to use extensively in my work for some time.
I copied many paintings inside the gallery including Vermeer's famous 'The Art of Painting " which I still possess.
On my return to Australia, still fascinated by the Old Masters technique, I regularly visited the Sydney library and studied any available literature on the subject. Keen to grind my own paints, Iapproached paint companies such as Dulux in search of the pigments which were not sold in Australian art stores at the time. I prepared my own gesso boards and was fascinated with the glazing and scumbling techniques which I still use today.
I had two exhibitions with Robin Gibson then began experimenting with my painting. However, no one was interested in my new work.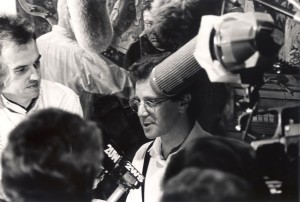 Having no luck exhibiting I decided to paint a large figurative work. On its completion I wasn't sure whether to enter it into the Archibald (portrait) Prize or the Sullman. Depicting five figures, it was both a portrait and genre painting. In the end I entered the Archibald because I knew that the Sullman judge for that year, Gareth Sansom, had a reputation for disliking any painting that wasn't abstract. I won. Gareth Sansom later said that had I entered the painting into the Sullman it would not have been hung. I responded on radio by saying if it wasn't for him I wouldn't have won the Archibald.
Thanks Gareth!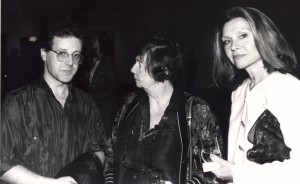 Congratulations on the Archibald win – you must he delighted. Margaret Olley tells me she really
loved the picture and would have awarded it the prize too, which is high praise coming from Margaret.
Philip Bacon